Provocation 8:

Krissie Marty / Forklift Danceworks




︎ Visit Forklift Danceworks'
website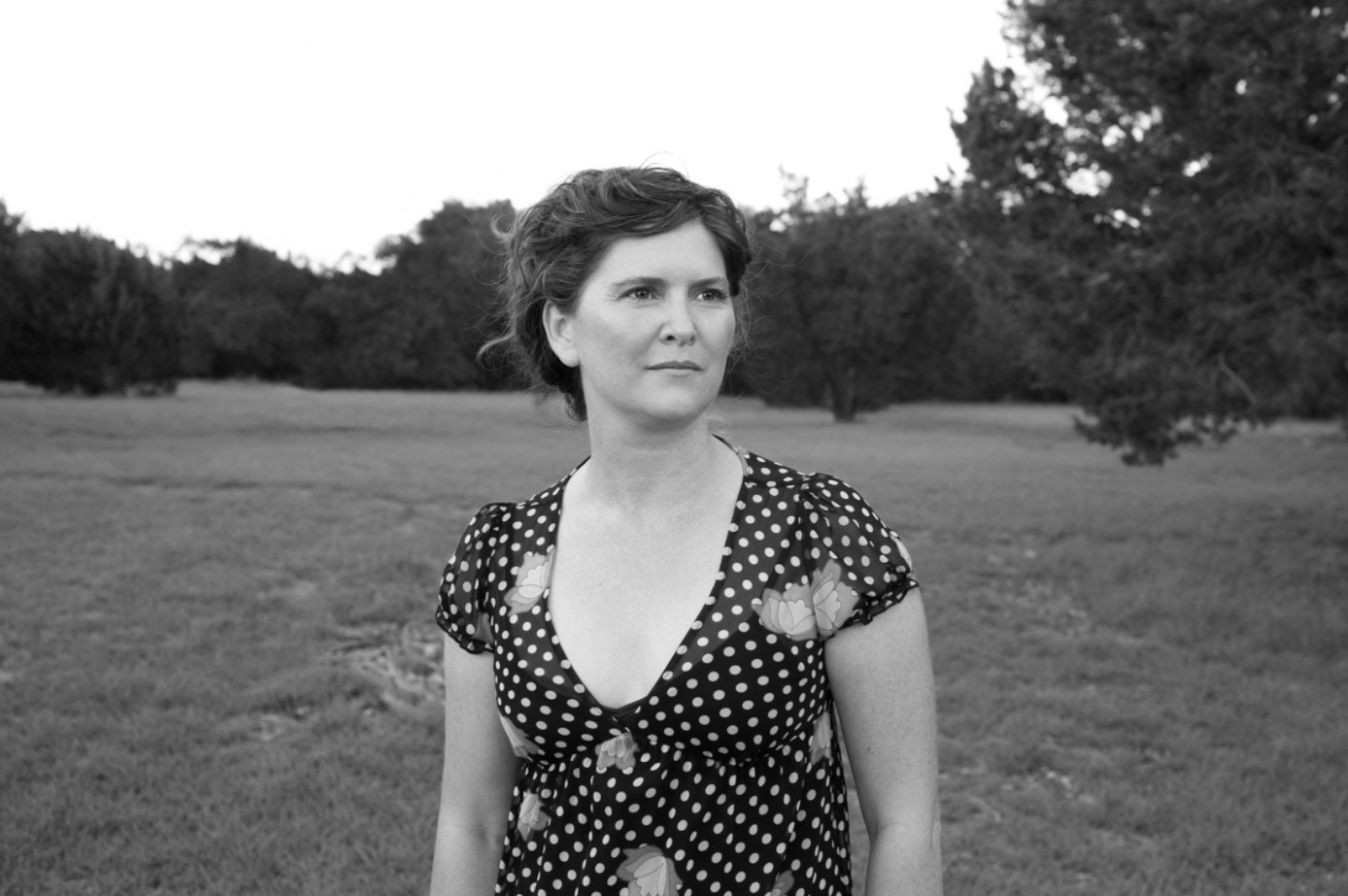 Provocation 8:


Notice the work around you. Learn from someone at work. Ask them about their job. Questions to get started:
How long have you been doing your job? How long have you worked here/there?
How did you get into it?
What do you love about your job? Or what is your favorite thing about your work?
What is hard or challenging about it?
What do you have to know to be good at this job?
What would you want people to know about your job or the work you do?
If you are able and conditions allow, work alongside this person. Be of use and try the work with your own body.
Try these questions with someone you know or someone you don't know. Learn from a friend or family member, or someone whose work you encounter regularly, or someone you are just meeting whose work supports your daily life. Share their answers and what you learn here or with someone else.

BIO:
Working in the mediums of dialogue, participation, and collaboration, Krissie Marty makes dances with people who aren't traditionally considered dancers. As Associate Artistic Director of Forklift Danceworks, she most often engages city employees in dance-making. Krissie created and directed RE Source, featuring the employees and machinery of a 125,000 square foot Goodwill recycling warehouse. She also co-choreographed Served - Williams College, PowerUPfeaturing Austin's electrical utility, Play Ball Downs Field on a historic Negro League baseball field, and The Trees of Govalle featuring Austin's Urban Forestry Program. She helped to conceive of and design My Park, My Pool, My City, co-directing each performance in the trilogy. Krissie holds an MFA in Choreography from the University of Iowa, and her community-based choreography has been performed in partnership with Jacob's Pillow Dance Festival, The Kennedy Center, Stratford Circus (London), Chateau de Cazals (France), and Adugna Dance Company (Ethiopia).

Responses:

Anonymous

Electricity is something that we as people take for granted everyday. Living in a country where the norm for us is luxury for others is something that we must all come to appreciate from time to time. My father is an electrician and a foreman, and deals with huge projects that rely on electricity. One of the most memorable times Ive had was working with him and the company from projects that started with digging holes in the ground to run huge pipelines, to eventually a full size building working on the lights in the ceiling. After asking several questions about his work life and working with him side by side, it definitely changes my perspective on life and not only humbles me but makes me appreciate the life that we live in and the work that is needed for us to enjoy this lifestyle.

Me: How long have you been doing your job?

Father: I've been doing electrical for 34 years now. Started out as an apprentice and then worked my way up to an electrician to eventually a foreman.

Me: How did you get into it?

Father: I dropped out of college and knew I needed to find a career that made good money and something I wouldn't mind doing for the rest of my life. I've always worked with my hands and I knew that out of all the construction positions electrical made the most money so I went for it. I had times where I was disappointed from dropping out but I have never regretted it to this day.

Me: What do you love about your job/ what is hard or challenging about it?

Father: Everything. I love the challenge that comes with it. I love yelling and being mad when I don't get something. I love making the impossible possible, from certain restrictions that we must follow too deadlines, to eventually seeing the project come to a close.

Pov: (While working with my father and seeing the challenges that arose, when I say there were challenges there were. Looking at the plans and having to abide to what the inspector wants and to what the owner of the building wants to what our boss wants done was quite overwhelming but seeing my father complete it with flying colors was something to admire.)

Me: what do you have to know to be good at this job?

Father: You need to be okay with failure and need to learn how to problem solve on a bigger scale. Just like engineers and programmers need to be problem solvers, so is the same for electricians. You need to know how to bend pipe, to hook up disconnects, knowing electrical codes, to knowing which size of wire to use for what kind of job, to know what materials are needed for a certain job or tools for that matter. You really need several years of experience to understand what is the goal of the job.

Me: What would you want people to know about your job?

Father: I would want them to know that being a construction worker in particular an electrician, is a valuable position in society and deserves the same recognition as someone who went to college for a career. Never frown upon someone that works in a dirty job because without those people, society wouldn't be as luxurious as we would want it and lifestyles would be a lot different. We must always appreciate the workers that do the jobs people would never dream of doing, because they really are the backbone of this country.

After sitting down with my father and asking him these questions and reflecting on my own experiences while working with him, it has definitely made me appreciate the "dirty jobs" and the workers behind them.


Charlotte Bowens:

I spend a few hours with this black man I know and who plays with numbers all day which seems to be the most boring thing ever but he assures me there is magic in numbers. He reminds me that the world is made up of numbers and the financial accounting piece is only one part of it. We discuss his daily routine that at first seem monotonous and rigid but I soon discover that there is thinking involved in managing money, there is a kind of science that is used to untangle the web of taxes but he recalls with a genuine fondness the expansive creativity required in reconciling the numbers with all the available information.

His greatest joy is witnessing tears or huge smiles when he has helped someone save or even receive money they hadn't expected. And I'm surprised when he talks about the ugliness of accounting but most especially money. People are afraid of a tool, he calls it a tool, that has so much power over our lives or perceived power, so he tells me. The tool talk is interesting and a perspective I've never considered. The power over my life is palpable and familiar, I want to think I have power over it, money that is but for whatever reason, I'm no different than anyone else who feels powerless to money. He says our somewhat dissociative relationship to money is why the accounting profession will always grow and flourish, not because it's hard or requires any real intellectual prowess but out of fear.

I think about the accountant guy the next time I swipe my card and when I go to reconcile my bank statement, something I do once maybe twice a year. Truth is I fall back into my daily routine of letting money rule me and I shell out a portion of my earnings to the accountant guy because I recognize that unleashing myself from my internalized fear of money will be a journey best conquered one day at a time.

Ben Ueland

I recently had a conversation with one of the aircraft mechanics at my local airport asking if he would mind sitting down and talking to me about his career in maintenance. He said he'd love to. His name is Brian, and he is a retired US Navy crew chief, who now works on small GA aircraft for a local flight school. We started with his early Naval career. I asked him, "What made you want to join the Navy for maintenance?" He said he didn't want to work on them, he wanted to fly them. He couldn't because he got anthro'd out for being too tall. He told me he was very upset at first but came to enjoy working on the jets, and seeing the pilots succeed in their mission while flying "his" jet.

He was in the Navy for 24 years, and deployed on US aircraft carriers to both Operation Desert Storm and Operation Allied Force in the 1990s. Brian said ship life was miserable but his work was one of the most rewarding feelings he felt, and that he continues to feel the same way to this day. His work now pales in comparison to before. I look up to Brian in many ways, but in large part due to his ability to enjoy the process of life, and to accept heartbreak and move forward to new light, and have a wonderful career doing so.


Margaux M.

My husband just got a new job. He is an actuarial and while I love math; I can't seem to find the draw with what he does. I think asking him these questions while keeping an open mind can not only help me understand his day-to-day tasks more, but can also help me connect with him on a deeper level. So, on his lunch break, I began to ask him…

Me: How long have you been doing your job with this company?

Husband: I have been working with them for almost two whole months at this point, so I am relatively new.

Me: How did you get into it?

Husband: I have always loved math, that I something we always did together when we were in the same classes. I looked for ideas before going to college on a way that I could be financially stable while pursuing my passion for math. While it is and was certainly a lot of work, an actuary is what fit for me and my life goals.

Me: That's so sweet of you to bring up. I certainly miss the high school days where we would come home and do our calculus homework together. What would you say is your favorite thing about your job?

Husband: Other than the pay, I would say that learning something new every day is probably my favorite thing. It is really neat to be able to grow while working. I can appreciate it.

Me: Alright and what is the hardest part of your job.

Husband: Right now, that hardest thing for me is learning the ropes. Since I just started not too long ago, there are a lot of things that I need to learn about the company itself. Learning their processes from the bottom up has been pretty challenging for me. Although, I am definitely seeing improvement in my abilities with each passing day.

Me: I'm glad to hear it! I have certainly noticed you being stressed out, but then once you get something I can immediately tell; you look proud and much more calm than before. What do you have to know to be good at your job?

Husband: Honestly, most of all you need to be able to problem solve and critically think. While you definitely need the basis of an education in math, you will not get very far without the abilities I mentioned.

Me: I feel like that is true for a lot of jobs. Basic knowledge can only get you so far, you need to have other skills to excel that are normally harder to acquire. What would you want people to know about your job?

Husband: I guess just that it has quite a bit of a learning curve, but once you get into it, it all begins to make sense.

While his answers weren't a huge surprise to me, it was nice getting to have a conversation that isn't the norm. It wasn't "how was work" or "did you finish everything today". I enjoyed going a bit deeper into his day and listening to what he had to say. His comment of learning something new every day is probably what brought me the most clarity on his motivation within his job. I found it really interesting and it allowed me to understand him a bit more.

Timothy H.

The simple pleasures in life are never as simple as they seem. Kids will always laugh but carry enormous amounts of work to keep them safe and happy. Jobs will always be enjoyable if we let them. And there will always be something delicious to grab on the way home but the work that goes into something as enjoyable will never be fully grasped until you grab the rubber scraper and start mixing. I recently sat down with a local small business bakery owner to ask her questions about work.

Q: How long have you been running your bakery? How long have you been a baker?

A: "I have been running Bake MD for over 2 years. I make all kinds of cakes, cookies, cupcakes, and anything you can bake. I have been baking for nearly my whole life. Professionally about 5 years."

Q: How did you get into it?

A: "I remember as a kid on the farm my mom would always be baking something in the kitchen. I remember her waking up at 3am to bake goodies for us and for dad to take out to the field. It's also been something I've been around and enjoyed."

Q: What do you love about your job? Or what is your favorite thing about your work?

A: I love seeing people's reactions when they first see their order. People in my small-town area don't expect high quality baked goods, especially at my prices. My favorite thing would be seeing the result of orders. Orders are essentially the same but every now and then I get one that pushes my skill set. Seeing those orders completed is really pleasing.

Q: What is hard and challenging?

A: The hardest part is being away from my family for extended periods. Baking is a job from before sunup to after sundown. That means losing time with my boys and husband.

Q: What do you have to know to be a good baker?

A: Anyone can bake the same quality products as I do. To be a good baker you constantly must set yourself apart from homemade.

Q: What would you want people to know about being a baker?

A: Baking isn't as easy as it looks. You're dedicating your entire day to a kitchen that in most cases is far too small.

Sitting down with Chelsea awakened me to the efforts of small-town businesses. She put extensive labor into ensuring her products leave their customers with ear-to-ear smiles. In her world those are the biggest payoffs. I can honestly say I do not display enough appreciation for the laborious work to make a five-minute experience enjoyable. From now on when I step into a small shop, run by a select few individuals, I'll take a step back to absorb every effort that went into making my experience enjoyable.

Anonymous

Work around you

Growing up my parents have had a few jobs and they have learned a lot from those jobs. My parents were unable to obtain high-paying and "important" occupations in Mexico because they were unable to complete their education. However, they started their own business and have used the talents they've acquired over the years to make it a success. They run a profitable automobile detailing business in the little town where we live.

How long have you been doing your job?

Mom: We've been in this business for 16 years. We started when your father started working got a company in America. However, in 2017, we started our own company and began working for ourselves.

How did you get into it?

Mom: We got into this because your father was tired of working for people who didn't treat him well, and he decided it was time to break out on his own, so he quit his previous job.

What do you love about your job?

Mom: I mean, everything. It may be different for your father, but when we talk to the older clients, they want to talk a lot, which I enjoy because it makes me feel like I'm keeping them company.

Dad: I enjoy the fact that I am not required to work for anyone else. That we have the freedom to set our own hours and work whenever we wish. I really enjoy the opportunity to meet folks from all over town.

What is hard or challenging about it?

Mom: Dealing with the customer. Even though I like meeting the customer it is also one of challenging things about our job. Since we are Mexican, some of the customers judge us because of nationality and say very rude things to us.

What would you want people to know about your job or the work you do?

We have gained a lot of experience and have virtually perfected this work because we have been doing it for so long. People may believe that detailing is a simple job that everyone can do, but this is not the case. You must understand how to utilize the chemicals and cleaning supplies so that the vehicle you are working on is not damaged.

Geoffrey S.

I just picked up a full time job that I consider to be extremely temporary. Due to the pandemic I lost my last from social distancing guidelines. It's been about three months now since working my new job here at Amazon. I've never worked in this type of environment before but the best way to describe it would be a "glorified warehouse", definitely nothing luxurious, nothing sexy about the job. The type of work performed here would be described hard manual labor, this is something that I'm definitely not accustomed to. After the first week of work I started to become discouraged because well, for lack of a better term I guess you can say I'm "spoiled". I entered this situation feeling like I was "too good" for the job. On my lunch breaks I'd run into this older gentleman, Joe. Joe was an older gentleman probably close to his sixties. You can tell Joe had lived a lot of life, and he lived it hard. There was a wiseness about him that was almost comforting. "What's wrong youngster?" Joe said to me. I go on to explain my dislike for the job and the type of work it entailed. "Suck it up champ, you'll be ok!". That's one thing I like about Joe, he always looked at life in a positive perspective despite the circumstances given, I'm sure Joe has his own story which he could complain about, but he doesn't. He shows up to work everyday with a smile on his face.
Q- How long have you worked here?
A-I've worked in warehouses my whole entire life, I love the work, I love working with my hands. I have been at this particular fulfillment center for 2 months, but I've been with the company for 6 years. I used to work at the other location in Camarillo as a driver..I'd bring home 6 g's a month, with overtime!
Q- What do you like about this job?
A- I never graduated highschool Geoffrey, I had a family to raise at a young age. When working in a warehouse, the company isn't worried about school, or this and that. I'm a hard worker, and my work here is appreciated in an environment like this. I like to work with my hands. I'm 58 years old and still going strong.
Q- What do you want people to know about the work you do?
A- Geoffrey, now listen. I know this job isn't the fanciest. But it's an honest living. It doesn't matter if I'm mopping floors or driving the forklift. What I want people to know is that no matter the task I will always perform it to the best of my ability. If you come into work with a negative mindset then you're going to hate the work you do, but you come to work with the mindset of "I get to go to work today", and appreciate the fact that you're able to put food on the table and provide for your family, you learn to appreciate the job. I even bought my first house when I was 30! I plan on working a few more years until I can buy another house and live the good life Geoffrey! Because that's what it's all about right?
Speaking with Joe gave me some insight on how I view things, not just at work but in everyday life. I learned that my selfish, spoiled attitude has blinded me from being able to realize my blessings. Joe has become a dear friend of mind the few short months I've known him. Everyday I'm amazed by his optimism, positivity, and his ability to see the good in everything. I'm not exactly sure what Joe has gone through in his lifetime, but he doesn't let his past or the minor things create a disadvantage for himself here in the workplace. I take what Joe tells me to heart every time he speaks, he has much more experience to the game of life than i do. Perhaps the key thing I've learned in this entire experience while being here, is to approach everyday with the same work ethic. Sure we all have good days and bad ones, sure we've had those times when we were exhausted from staying up all night the night before, studying and working on a paper, or those days when we're just not feeling it. Or even in this case working a new job that isn't as "glamorous" as previous ones I've had.Now I go to work with the mindset of having and being able to hold a job is a gift, and I treat the job as such. Because just like Joe says, "No matter how you slice the pie, it still tastes sweet". I'm not sure what he means by that, but it resided with me.

Ji G.

For provocation #8, the angle that I wanted to take on this prompt was one where I familiarized myself with a job that was closely related to mine, yet I was far removed from. When seeking inspiration, I prompted myself with such a question: who facilitates me doing my job, yet completely flies under the radar? A light bulb went off in my head: chefs. Allow me to explain. As a bartender, I'm pretty much on an island as far as work interactions go. I'm isolated from the kitchen, and even from the rest of the front of house that brings me the food that people order. I have literally no idea how it arrives at the point to which I serve it to my customers. Cueing one of my best friends being introduced to the Pluriversity! Nate is a sous chef/kitchen manager at my restaurant of employment. I got to work about an hour early yesterday to give him this mini-interview. We had a great time collaborating, and walking through his day-to-day while picking his brain enhanced not only my understanding of his job, but enhanced my understanding of working with the back of house in synchronicity. His responses are documented below:

Q: How long have you been doing our job? How long have you worked here?

A: I've been working as a kitchen manager, admittedly, only since I started here. That being said, however, you know better than anyone that I've been here since the day we opened, and even though that's only been a year and some change, I feel like it's been years. There's no place I'd rather be and nobody I'd rather be working alongside.

Q: How did you get into it?

A: I was raised in a house with tons of siblings and a single mom. To be honest, there wasn't a lot of attention to go around. But everyone knew my family because they knew my mom could cook. She would love to cook for anyone who would let her, and it just so happened that everyone wants to let her. My neighborhood, my friends, church, the list keeps going. I saw how people treated her differently, and I also saw how I could either get her attention and/or spend time with her if I followed in her footsteps and cooked alongside her.

Q: What do you love about your job? Or what is your favorite thing about your work?

A: I love how I can make people feel. Cooking has always been how I show people I love them and care about them. Every time I complete an order and a table loves their meal, it's like I'm succeeding in life. I just made their day, and kept them from being hungry at the same time. Maybe I even saved their day, and kept them from being in a bad mood. Knowing people like the food that I make for them will always be one of the most rewarding things in my life.

Q: What is hard or challenging about it?

A: The hours, man. I'm here at least six hours before we open every day. Everything needs to be prepped and pre-batched, orders have to be considered then made for a week (or weeks) down the line, and sometimes I'll be the first one in and the last one out. If you don't get a good night's sleep, your life sucks. It's a lot of being on your feet. And the last thing I'd say is sometimes you know you killed a dish and put love into it, but people just don't like it because they don't know what they like. You just have to swallow your pride and hope they like the next thing.

Q: What do you have to know to be good at this job?

A: Not to downplay my abilities at all, but I feel like anyone can be good at what I do so long as they put the hours and the reps in. You learn the little things that work for you as you spend more time doing it: the way you hold and flip certain pans, the time you give certain things to charr, it's literally all about the little things. Tasting the love is real, because when you give some food your full attention and you hit it with all of your little things, that's what makes it literally two or three times better.

Q: What would you want people to know about your job or the work you do?

A: I don't want to sound basic, but I just really want them to know that I love what I do. I feel like people don't see back here really doing it, so they might just think I'm f***ing off, but it's really the opposite. I'm putting everything I got into this because it's all I have and it's all I want. The only thing that would be better than what I'm doing right now is doing the same thing for more people!

After asking Nate all of these questions, I realized the passion that he had for his job immediately transcended our relationship. There's something about surrounding yourself with people who really care not only about you, but also about their life's work and what they stand for. It's an identity thing, but it's also knowing that you're contributing to the world exactly how you want to and in perfect alignment with your mission.

Danielle W.

I am supposed to be working. I am even sitting in my office surrounded by colleagues who are likely preparing for our big meeting next week. The silence is cutting into me, and the guilt plagues me for ignoring my inbox.
The office smells like burnt coffee. And M's salmon bowl he just cracked open.Only three more hours until I can go home.
Me: Hey T, why did you join [company]?
*awkward moment of every head turning to me***internal dialog- worst timing ever...**
T: Oh, you know. I just wanted something different, and I loved the mission of [company]. I was tired of working at the same old nonprofits and really needed a change. Working at [previous company] was terrible- my work-life balance was so out of wack I thought [my husband] would divorce me.
Me: Yeah, I can relate to that! At least here, we have a lot of flexibility. I was excited at how [company] was dedicated to innovation. What do you love most about your role, aside from working with me? *humor is always my go-to in moments like this*
T: I do love working with you, but I also love working with our grantees. Investing in other people's work and dreams is really fulfilling. I love when I am able to make the call and tell someone we are giving them half a million dollars to continue their work. The joy and potential I get to bring to people who are trying to change the World is something I will hold close to my heart forever.
Me: What is something you would want people to know about the work [company] does and your role in it?
T: Doing good costs money. A lot of people have this rosy vision of what social impact work is, and that usually does not include money. Amazing organizations that are creating solutions to the biggest issues facing the World have bills they need to pay and diverse funding.
*phone rings*
T: Sorry, D. Let's talk more later.
The office goes quiet again as T walks into the hall to take her call. I smell the burnt coffee again and decide I better open my email.
Reflections on random office chats. Here is a funny story for you. When I applied to work at my company, I actually applied for T's job, and she was hired for the role instead of me. I was told I did not get that specific job but was offered another role in a different department. That was nearly a year ago, and between random office days and primarily working remotely, I don't often have the chance to casually talk to her (or any of my colleagues, for that matter.) This chat took less than ten minutes and it provided a lot of insight to her as a person and how she sees the work we are doing. This activity was a great reminder of the power that little conversations have. Those random chats have been lost since working from home so much, yet they are essential.
Start a conversation and stay connected.

Olivia C.

My roommate loves to cook. She is an amazing cook and I have never had a bad meal with her. She knows a lot about herbs and spices, and enjoys a wide variety of foods. She is very talented in the kitchen and knows how to make things work when they seem to be going wrong. When I asked her about how she came to realize that she really enjoyed cooking and why she does what she does, she gave me a very short answer that held a lot of meaning. She mentioned that family is really important to her and her grandma and mother really expressed their love through eating together and sharing meals with each other. She has found that working with people in the kitchen even if they aren't always cooking with her, is super rewarding. Her love language seems to be quality time and cooking together is both providing that and a sense of fulfillment to a human need, hunger that is. I learned that when you put your intention into a meal perhaps making soup for someone who is sad, making something fresh on a hot day or even just trying to use up produce before it goes bad, sometimes having an intention can lead to something really beautiful. She mentioned to me also that not having a plan all the time on how something is going to go is a good thing. If you are constantly stuck to a plan it's not bad per se, but feeling the flow of getting used to cooking is something that takes practice. So I sat and read and asked her some questions while she made some vegetarian burrito bowls. We bonded over a warm meal and easy cleanup time. I hope to be able to get better at cooking so I can share this feeling with everyone. I ended up making a tik tok about her sad soup day phenomenon, just with the Adam Driver sound saying "good soup", she loved it.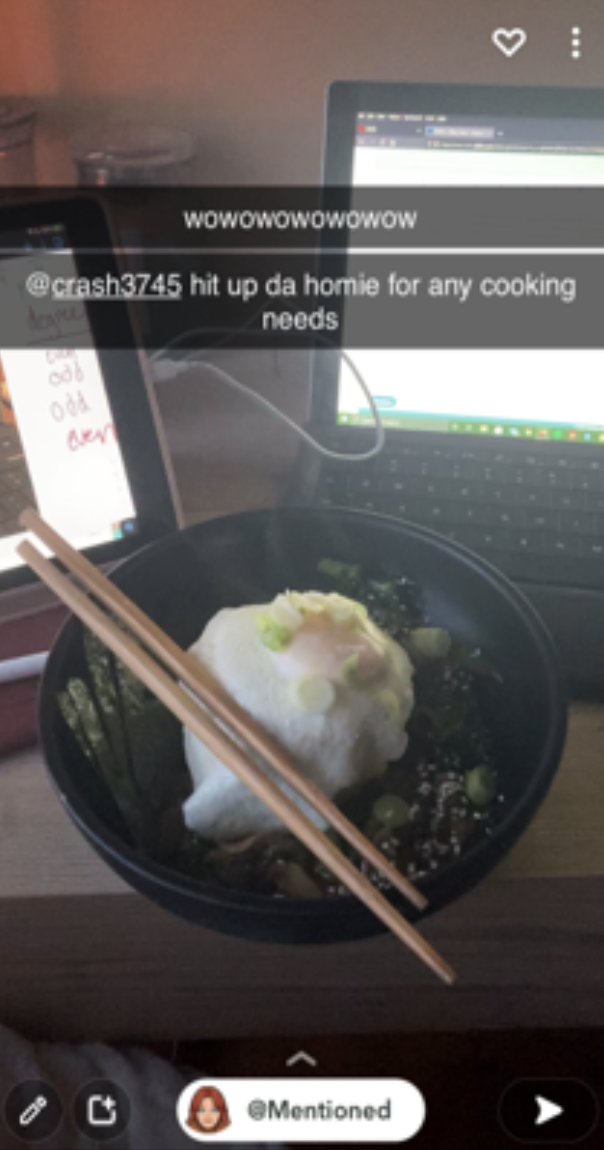 Nihit G.

For this provocation, my take on it was to think about those closest to me and try to understand why they chose the field that they did. In this particular case, I chose to ask my father why he selected the path of hardware engineering, as the transcript shows below:

(N: me; S: father)

N: Hey dad, are you busy at the moment?

S: No kiddo, what's up?

N: I was just thinking about the different paths people chose, and wanted some insight on why you chose the field that you did.

S: Actually, when I was studying in college back in India, I originally did not want to become a hardware engineer. I originally had plans to become a doctor, but having witnessed so many deaths around me it honestly scared me at the thought that I would be responsible for the life of someone else in my own hands. I decided to look into engineering, but software seemed really boring. I did some research and thought that um, hardware engineering appealed to me the most.

N: That seems valid, but I honestly like the idea of helping people when they truly need it. So why hardware engineering in particular?

S: And I respect that, glad you are on a different track. Hardware engineering was cool because as a kid I was really interested in electricity and more so circuits. I liked physics for a reason, and I thought that being able to create my own circuits and create new patterns would be really interesting. Almost everything today uses circuits, even the TV in your room, and it seemed like the field was growing a lot at the time. The lucrative pay doesn't hurt either. I actually helped in making a chip for the Xbox Series X!

N: Wow that's actually really cool, but how come I do not have one yet?

S: …Any other questions Nihit?

N: Yea for sure, uh did you have any challenges when you were in this field?

S: Honestly challenges are a part of any career son, you just have to rise up to them. The number of times a circuit design did not work is immeasurable, but you work hard and you will be able to find a solution. Treat your work like it is a passion and really enjoy what you do in life, and the money and pleasures in life will follow.

N: Thanks dad, this was really helpful. Also could not resist the urge to give me advice huh?

S: Of course not, I'm your dad. It's my job.

N: fair enough, well thank you for answering!

S: My pleasure, now go do your homework. And shave that beard off.

This really opened my eyes to the fact that people have such different experiences in the workplace, and the advice that my father gave really stuck with me. I now have a heightened vision of going into healthcare and truly being benevolent. My primary goal is to help people in need, and to one day reunite a child with their family as an anesthesiologist. However, it takes small steps to get to a goal, and as a current behavioral health technician it made me realize that all people are unique and they all have their own wisdom to impart.

Anonymous

I've decided to interview my mother for this Provocation. At first I had been quite nervous for this part of the project since I can't converse much in Vietnamese with my mother as much as I can understand it but I knew in order to have as much context and comfort as possible, Vietnamese was the easiest way for my mother. But nonetheless, I was thoroughly interested in listening to my mother's thoughts and opinions on the type of work she does for a living. My mother has worked at a nail salon almost all of her life, alongside her struggles as an immigrant, foster child, and woman of color. As someone who has been fortunately alongside my mother for all my life, I am extremely grateful for the amount of work and efforts she's made in order to provide for this life. Note: This conversation was translated from Vietnamese to English by myself.

How long have you been doing your job? How long have you worked here/there?

- "I've been working for 20 years now. I used to work and own my own nail salon but I recently had moved towards other locations and bosses."

How did you get into it?

- "It was a job that I thought I could handle while attending school and taking care of my family. I wanted to work in order to further support my other family members back home in Vietnam once they migrate to America. It was also something easy enough to learn and get knowledge about."

What do you love about your job? Or what is your favorite thing about your work?

- "I like all my clients. Some of my clients have been with me since my first opened business through different various locations. I've received family gifts, invitations, etc. I've created so many good relationships and connections with people through this job."

What is hard or challenging about it?

- "There are moments where I have a hard or difficult time with a certain client. I've dealt with many younger, more immature people, as well as people who like to discriminate against me. Whether it's my looks, my accent, everything. Despite all those good relationships and connections I've made, there will always be a few handful of bad clients that just have no respect for me or my field of work and that's something I had to get used to and deal with now and then."

What do you have to know to be good at this job?

- "You, of course, have to know how to nail tech. Learning how to take care of skin, cuticles, nails, etc. And if available, you would have to learn how to do other services such as, eyebrow plucking or tattooing, hair removal, etc. I went to school a long time ago in order to attain my license for all of the following. I still learn some new things now
and then. I meet various different people, and have to work with their various different needs and wants. For instance, there will always be new trends or styles that come around now and then that obligate me to learn how to adapt to those new trends and styles."

What would you want people to know about your job or the work you do?

- "I'd love to have more people appreciate the amount of work, technique and especially time that comes along with this job. As I said before, I am always learning new things. I might not be as good as those things but I'll take some extreme overtime to attempt to perfect them as much as I can. My job is something I take pride in and I hope more people can acknowledge the extensive skill and craft it takes to paint those little designs on your fingers.

As I stated before, I've always known and have always shown my utmost gratitude to my working mother for having to deal with such hardships and adversity, but having this certain conversation with her had me reflecting intensely on worth. To some, those little nail designs are nothing more than an accessory. But to my mother and her coworkers, it's their craft.

Charles L.

Here is a desk beside mine at my home office. My wife occupies the seat as she diligently defends someone accused of a crime – she is a paralegal. Without prying too much, I ask her how she plans on helping her client beat the charges he or she may be accused of. She details her standard process, how she pieces the evidence together and employs the help of a forensic specialist to justify the defense. Her Paralegal journey started as a courtroom clerk, then blossomed into a career being a lawyer's "right hand".

Me: What do you love about your job?

Wife: I feel like a detective. I search for the smallest clues and piece all of the evidence for each case to create a story of what happened on or around the alleged dates in question.

Me: What do you want people to know about the work you do, is there any wisdom that you would like to impart?

Wife: Remember, everyone is innocent until found guilty. Some good people go to prison, some bad people are set free. Even if one of my clients goes away, they may not be doomed for life. Some people make a complete life change during their rehabilitation, and some people were just in the wrong place at the wrong time. Don't get angry at strangers, they may already be committing a crime. Make sound decisions and have compassion for those who are going through legal battles, it is a very stressful time in their lives. People are not all good or all bad, we are a conglomerate of both.

Anonymous

I went to my local Indian Healthcare Center, a hospital that provides healthcare services to Native Americans who are registered with a federally recognized tribe. These hospitals are usually understaffed or underfunded compared to your typical hospital in North America and out of my better judgement I asked the doctor I was seeing, "Why work here?"

I don't typically stick my nose in someone's life like this, but I was impulsively curious. He told me it was because someone needed to be here. "I am a doctor. There are sick people here. So, I am here." I could have pressed more but with that answer alone, combined with his body language it became apparent that he loved being a doctor. He loved helping people and doing his best to get them healthy. Nothing outside of that mattered at all to him.